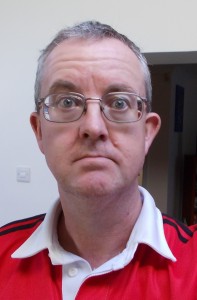 Rev John Wiseman is our current minister. You can read his sometimes 'irreverent' look at life on his blog, 'Grace Under Pressure', at this link and you can contact him by email at revjohn@poyntonmethodist.org.
"I was born and brought up in Wigan, the cultural and spiritual centre of the Promised Land, and am the youngest and some would say most spoilt of three children. My sister Pauline still lives there whilst my oldest sister Lorraine sails her own 65 ft yacht round the world. She got the money, I got the good looks. Before she passed away last year my mum spent her time racing whippets and making clogs; both Olympic sports in Wigan.
I obtained a degree in Biochemistry from Cardiff University in '85 then endured twenty four long months investigating bone disorders at an orthopaedic hospital in Oswestry. I will demand this time back from St Peter at the Pearly gates. This was followed by several years doing voluntary work at a street clinic for destitutes in Calcutta, India before returning to UK to retrain as a physiotherapist again down in Cardiff.
I then spent 10 years, mainly in Wigan, trying to work out just how exactly "the hip bone is connected to the thigh bone".  I have also lived, worked and taught physiotherapy in Bangladesh on three occasions, including one via sponsorship from the National Lottery to go as a physiotherapy lecturer to a spinal injuries unit just outside Dhaka for 16 months. I have been involved with supporting three families in India / Bangladesh for the past 17 years or so.
My ministerial training was in a variety of locations: Hartley Victoria College, Manchester, Candler School of Theology, Atlanta, Georgia and Wesley House, Cambridge during which time I developed an allergic reaction to the phrase "let's get into small groups".  I did manage to get a BA in Christian Theology out of it all however.
When called into the principal's office to be told I was being stationed abroad, in a location beginning with S, famous for its fabulous beaches, I was rather hoping for Sri Lanka rather than Swansea but have had five wonderful years down there. By the time I left, combined with 6 years spent at University in Cardiff, I had spent considerably more time in Wales than Jonah.
My ministry here in Poynton is based on the Four C's, Communication, Comfort, Challenge and Context in an attempt to make the Christian faith understandable and relevant to life in 2014. As we live out our discipleship I hope that above all else, whatever we do together to spread the love that God in and through Jesus Christ offers, it is done with a smile on our faces.
My hobbies… do ministers have time for these… include travel, running at a pace that requires special slow-mo cameras to capture, reading, photography, writing an on line blog, going to the cinema and being a Russell Crowe celebrity look a like. I am currently half way through my mid life crisis which began when I was 17. I am occasionally to be spotted in the local Waitrose, mainly to avail of their free Cappafrappalatochino coffees."