Poynton Methodist Church are committed to raising £7,500 before March 2019 – this represents the cost of building a house for people in Haiti who are still reeling from the effects of the earthquake in 2010 and Hurricane Matthew in 2016.
(latest update – we did it! – please see the bottom of the page)
Vilia's House
This is the story that inspired us to set ourselves this challenge.
Vilia lost her mum and her home when the earthquake struck Port-au-Prince in 2010. Bereaved and homeless, she went back to her home town with her husband and children. But life was a struggle, and they had nowhere safe to live. Christian Aid partner KORAL built her a new home that was strong enough to stand up to natural disasters.
On the terrifying night when Hurricane Matthew hit, Vilia's neighbours fled to shelter with her. As the storm raged, she shared her home with more than 50 of her neighbours for several days. Despite the ferocity of the hurricane, which swept away surrounding homes, her house was barely damaged.
Vilia allowed her home to become an emergency shelter when Hurricane Matthew struck Haiti. She is incredibly grateful for the help she's received but worries about those without a secure home.
We know how to make it happen – of the 700 houses we built after the 2010 earthquake, just one needed to be repaired after Hurricane Matthew.
Our House
Our fundraising is going to focus on building this house in the Methodist Church at Poynton. Every time we raise another £38 pounds we are going to add another brick.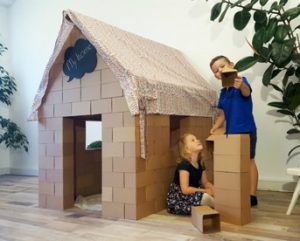 If you would like to buy a brick as an individual or a group then just donate £38 pounds (using the form available in church) and we will give you one. You can decorate it however you want (they are all made of brown cardboard) and bring it back and add it to our house.
When reach our target we will have a service of celebration and then donate all the blocks to our toddler group to enjoy.
We were made up to announce at our Church Anniversary in March that we not only achieved our goal of raising the funds for one house – we doubled it! Thank you to everyone who supported us along the way and gave so generously.
The money has now been passed to Christian Aid who were delighted to receive it.