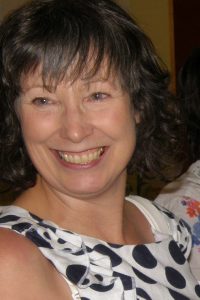 Annie Truman is our current children and families worker and you can contact her by email at annie@poyntonmethodist.org
"I am Essex born and bred and if you have a joke about white stilettos etc. …… I have probably heard it! Since leaving home at 18 I have moved around the country quite a lot before landing up in nearby Glossop 13 years ago. From the flats of Essex to these beautiful, beautiful hills.
I do not come from a Methodist background, I was brought up in the Anglican tradition where I was baptised as a baby and later confirmed aged 14. I took my faith very seriously as a child but in my teens I met my husband-to-be and began backtracking away from God and all that I had been brought up to. God, thankfully, did not give up on me. Two small children later and a lot of soul searching, together with a visit from a great aunt, I started attending my local Baptist church where I found that God had been waiting for me all the time. My walk with God changed as soon as I decided that I wanted Jesus, not me, to be Lord in my life.
Things took a completely new direction following the breakdown of my marriage. I relocated from Oxfordshire, joined my local Anglican church and in 2007 attended the Nazarene college in Didsbury where I obtained a BA in Theology in 2010. I still had no clear idea of where God was calling me, although I have always enjoyed working with children. After a period of unemployment I became the children and families worker for the High Peak Methodist Circuit where I worked for 5 years before beginning my contract with Poynton in January 2017.
I love my work and have a passion for seeing our churches engage with the unchurched in our community. Through toddler groups, preschool, assemblies etc. all of which are well established here we can make that initial contact, the difficulty is moving people forward into discipleship. With God's help I pray that we can discern how to move the church forward in a way that will capture the imagination and hearts of the next generation."