At present there are two book groups running.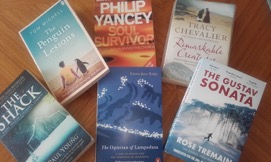 The first uses books that relate to themes running within the Church e.g. our recent themes of Holy Habits and Seasons of the Soul. This group, led by the Minister, meets informally once a month in the coffee lounge on a Sunday evening.
The second group meets on a weekday afternoon in a member's home where favourite novels or those recommended in the press are discussed.