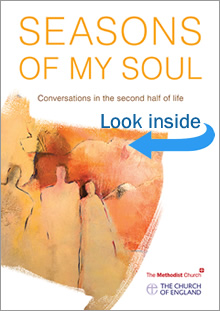 Okay time a promotion, an advertisement, an offer if to like to come along and be part of something new and exciting happening in the circuit over the next 12 months.
I wonder how many of you think that perhaps the church spends too much of its time and resources aimed at trying to attract children and young families when in fact most of our congregations are composed of folks who are, now what's the politically correct phrase, ah yes 'chronologically blessed'.
Seasons of my Soul is a new resource devised by the Methodist Church and the Church of England designed and aimed at people who have entered the second half of life. Which if we are honest is 90% of our congregations. So that means it's aimed at YOU. Yes, I mean YOU reading this webpage right now
It is designed to engage with eight themes that have particular significance in the second half of life, all explored within the context of the Christian faith and the journey we are all undertaking. It will provide a way to reflect back on the past, engage with the present and look forward to the future.
The eight themes that will be covered are:
Identity:- exploring who we are and what that might mean to each one of us
Transition times (change):- exploring the important moments of transition in our life.
Memories:- exploring our past as we remember it today
Wisdom:- what do we think it means to be wise, how have we discovered wisdom and who has helped us make those discoveries
Roles and relationships:- what is our purpose and priorities now
Forgiveness and reconciliation:- exploring how we can offer and received wholeness and healing through being channels of God's grace
Death and dying:- how can we move towards the end of life with purpose, grace and dignity
Celebration of Life:- how can we celebrate life in all its fullness
This will be run as a circuit event beginning in Sept 2017 with sessions moving around our 5 churches. Each session will be repeated so you have two opportunities each month to come along and share in this new adventure. The days on which these sessions will be held will also change to give as many people as possible a chance to take part. These sessions will avoid Advent and Lent to allow churches to hold their own bible study groups during these times of the year.
It promises to be an exciting time with people from our five families of faith coming together to share their own experiences and insights. All you have to do is come along, bring a packed lunch with you and be prepared to join in. For further details just keep an eye on the church notices.