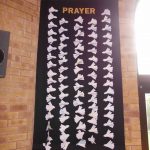 For 12 months since Sept 2016 we have been exploring the Holy Habits of the early church as seen in Acts 2:42-72
42 They devoted themselves to the apostles' teaching and fellowship, to the breaking of bread and the prayers. 43 Awe came upon everyone, because many wonders and signs were being done by the apostles. 44 All who believed were together and had all things in common; 45 they would sell their possessions and goods and distribute the proceeds to all, as any had need. 46 Day by day, as they spent much time together in the temple, they they broke bread and ate their food with glad and generous hearts, 47 praising God and having the goodwill of all the people. And day by day the Lord added to their number those who were being saved.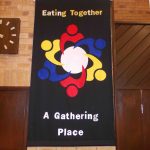 Each month all of our worship (9am, 10.30am and our two mid week services) has been based around a different theme. These were eating together, worship, prayer, joy, service, discipleship, scripture, fellowship, giving and sharing, communion and last but not least making disciples with ministers and local preachers leading worship from a given passage of scripture.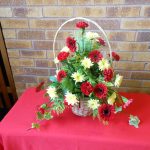 For each theme a banner was made and over the year the collection of 11 banners have been on display around the church. Members of the church were encouraged to explore faith through the medium of film and also through reading a novel based on a particular theme. The activities of our young church also followed this pattern as did our mission and outreach into the community.
We also had five house groups meeting once a month to discuss the material in Andrew Robert's 'Holy Habits' book including one house group that never met in a house but in various cafes and meeting places around the village.
On Sept 3rd 2017 we celebrated our year of Holy Habits with a banners, bouquets and BBB gathering in the church.