(continued from page 1)
Make me a channel of your peace
I would like to make 2 contributions, first the wonderful hymn, Make me a Channel of your Peace.
Second a quote from Nelson Mandela:
The true character of a society is revealed in how it treats its children.
I have great concerns about the pressures of assessment and testing being imposed on our children in schools. I am especially concerned about how this is narrowing and in some ways destroying young children's childhood. I believe Nelson Mandela's quote condenses these concerns in a single sentence.
Hilary Clare
This was not my dream
Although the speech is directed to the situation in America in the 60's I think there are many situations today to which it is relevant. Also, there are numerous Banksy illustrations that could be included but I think this one sits well with the speech.
Incidentally, when I viewed the speech on You Tube I was struck by the number of people present. There can be no dispute about the size of the crowd compared to the size present during the Trump inauguration!
Christine Ding
Inspiring words
Here are a few hymns and words that inspire and encourage me:
Use the gifts that God has given you and don't feel guilty that you can't do everything. The Apostle Paul wrote 'God has given each of us the ability to do certain things well'. Since your natural abilities are from God, he wants you to use them! Consider this – you are the only person on Earth who can use your abilities. No one else can play your role because they don't have the unique shape that God has given you.
Rick Warren
I often find the music of a song can be just as powerful as the words. This is an excerpt from the book God's Big Picture by Vaughan Roberts describing us as God's orchestra:
God is the composer who created this world, and he gave instructions about how we should live; the score he wants us to play. But we ignore them. We would rather play our own notes in our own time, so we dismiss him and tear up his score. It is hardly surprising that there is no harmony in the world. How can there be, if we all insist on playing our own tune? The result is a terrible cacophony. We desperately need a conductor if we are to begin to play the right notes again. Jesus is both the composer and the conductor. He has come to restore order. He wants to change the ugly discord of our lives and our world into the beautiful music they were designed to make: a symphony of praise to the Creator. He himself played that perfect music as he lived in perfect submission to God his Father. By his death on the cross he made it possible for us to return to God's orchestra, despite the way we have treated him. Then, by his resurrection, he was established as the eternal conductor. If we take our lead from him we will find our proper place in God's world once more. Our lives will make sense and will begin to produce beautiful music again, bringing praise to God.
Linda Grant
Love has no labels
This video is from the whole family really- me, mum and Tom all thought of this first:
For me, I also thought of this video. It sums up a lot of ideas about faith for me! There's a million other things I could send, but I'll limit myself to those!!
Helen Holmes
Slam Poet
I wanted to find a poem by Harry Baker which spoke a lot about God, but struggled to find the right one.
There are ideas in Purple Paper People which are fabulous, and I delight in his grandparents.
The Scientist and the Bumblebee is also great.
The third thing I want to suggest is by Desmond Tutu.
I know his work, but haven't read his books, so I suggest the report of the Truth and Reconciliation Commission. From the conclusion:
Ours is a remarkable country. Let us celebrate our diversity, our differences. God wants us as we are. South Africa wants and needs the Afrikaner, the English, the coloured, the Indian, the black. We are sisters and brothers in one family – God's family, the human family. Having looked the beast of the past in the eye, having asked and received forgiveness and having made amends, let us shut the door on the past – not in order to forget it but in order not to allow it to imprison us. Let us move into the glorious future of a new kind of society where people count, not because of biological irrelevancies or other extraneous attributes, but because they are persons of infinite worth created in the image of God. Let that society be a new society – more compassionate, more caring, more gentle, more given to sharing – because we have left "the past of a deeply divided society characterised by strife, conflict, untold suffering and injustice" and are moving to a future "founded on the recognition of human rights, democracy and peaceful co-existence and development opportunities for all South Africans, irrespective of colour, race, class, belief or sex.
Stephen Hughes
An inhabited Garden
Not so sure these words written by Johann Wolfgang von Goethe are appropriate for your request for contributions, but will give them below for your consideration.
The world is so empty if one thinks only of mountains, rivers and cities; but to know someone who thinks and feels with us, and who, though distant, is close to us in spirit, this makes the earth for us an inhabited garden.
Jean Lunt
Two quite different pieces
Bernie Maltby
One day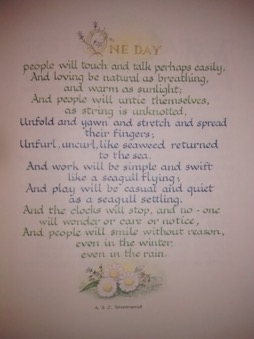 Poem by ASJ Tessimond, illustration from The Golden Thread, Dorothy Boux.
Liz Baker
Into …
Out of the keenness that notes others' failures

Blind to the path of pain they have trod,

Out of ourselves and our won fancied goodness

Into the life that is hidden with God.

Out of the fear of what others will think us,

Out of the longing that others should praise,

Out of all questioning why he thus deals with us,

Into the life of content with His ways.

Out of the life which is always expecting,

Sympathy, love – all that friendship can give,

Into the life where the joy is in sharing,

Poured out in service that others may live.
I haven't been able to trace the author of this, please let me know if you do.
I was also very much appreciated the story of Shane Taylor as retold by Helen Holmes in the September edition of the Herald (p10&11).
Ruth Horner
Here I am to worship
Marie Moncaster